Hi everyone. Just catching up with my blog, as I had a sick toddler this week - and he needed all the TLC he could get!
To catch you up on my super-amazing photography class....
On Wednesday we were given a very specific assignment. I will share the assignment, and the results of it with you here. Needless to say, I had a great time shooting this assignment. Not only choosing the subject, but trying to think of different ways to represent the object and different ways to represent how it is used. Our assignment was this:
1. Choose an ordinary, everyday object and shoot and identifying shot of it.
2. Take 10 other photos of that object considering it in different ways (views or ways that it is used).
3. Use multiple shutter speeds and depth-of-fields (apertures) on the subject.
Here are the results of my assignment, keeping in mind that I took WAY more than 11 shots. Some of them were just cruddy - but these are the 11 that I choose to represent what I thought the assignment was. What do you think? Did I get it, or fall flat???? As always - love to hear what you think, good, bad or ugly!!!
Shot One, Identifying shot:
Steps in front of the main branch of the New York Public Library
ISO 400
f/ 8.0
1/160
Shot Two: Passing By: This shot was taken with a slow shutter speed and low aperture to keep the steps in focus, while blurring passers-by. I actually had a few shots where you could see the full person walking, but loved the effect of the wind blowing this woman's long blond hair as she passed by my camera.
ISO 400
f/ 22
1/20
Shot Three: Perpendicular: We don't often look at steps in this way. We are usually focused on just going up or down.

ISO 400

f/10

1/125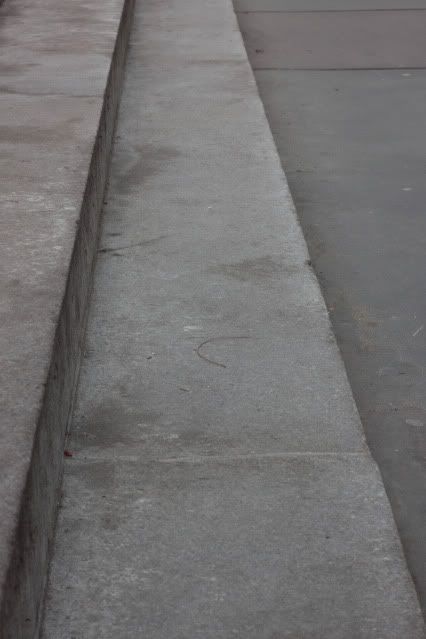 Shot Four: Drop Off. This photo was taken with a very wide open aperture, close to the step, to play with the depth of field. The totally blurred portion of the photo is the top step, the line where blurry meets clear is the drop-off down to the second step, and the second step is in focus. (A woman came up to me after I finished this shot and asked me if I was photographing a tiny bug! Hee Hee)

ISO 400

f/ 1.8

1/1000

Shot Five: Legs. For this photo, I had a nice medium aperture and fast shutter speed. I wanted to capture the entire scene and freeze the legs of the person walking, without getting any blur. I really wanted to get the entire foot of the person walking, but I am just a bit too short.
ISO 400
f/ 6.3
1/160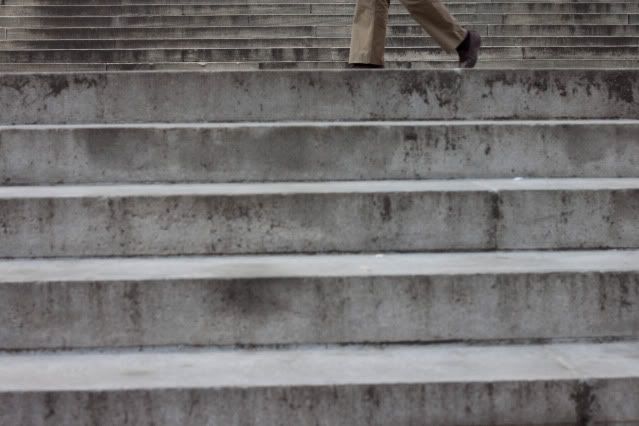 Shot Six: Sightseeing: This is what was going on, all around me, while I shot. Lots and Lots of other people taking pictures and seeing the sights.

ISO 400

f/5.0

1/250

Shot Seven: Moving Along: For this shot, I wanted to convey the movement of people up and down steps. I knew that I was going to need a slow shutter speed and I don't have a tripod (yet), so I set the camera down on the step, and I used the two-second delay timer for the shutter so that the motion from me pressing down the shutter-release did not affect the shot. Took quite a few tries, and curious stares, but I got it.

ISO 400

f/22

1/10

Shot Eight: Worn Down: For this shot, I moved up to the top of the stairs, near the entrance. The steps near the top are marble, and very old (for NYC standards). I lowered the aperture to get a soft shot. Which I can do because of my amazing 50mm prime lens that has an aperture range of 1.8 to 32. Love it, I have not changed back to the kit lenses yet. Also, as a side note, this particular photo will resurface in a later posting....

ISO 400

f/ 1.8

1/2000

Shot Nine: New and Old: There was old stone on one side and a new cement patch on the other side of the stair rails.
ISO 400
f/ 6.3
1/320
Shot Ten: Brass: Beautiful old brass railings.

ISO 400

f/ 6.3

1/100

Shot Eleven: What is at the bottom: What happens at the bottom of the stairs? Well, at the NYPL, there is an old drain grating. Where some horrible litter-bug threw out a piece of bright green gum.

ISO 400

f/ 8.0

1/160

That was the assignment for Wednesday. Some other industrious classmates took pictures of people, fruit, public phones and buildings. It was great to look at the other student's photo series - its also nice to see what they threw out and didn't think fit in their series. Editing a photo series turned out to be just as fun as making the series. u

xoxo

umm nidal